CARNIVAL SALOON AT RIVER WEST
March 1st to 9th , RIVER WEST Carnival Saloon will open a gate to the "wild west" and offer amazing carnival fun to its visitors.

Cowboys & Cowgirls, the carnival sheriff, Can Can girls, dancers, acrobats, face painting and tons of creative play, await RIVER WEST visitors in an American western setup.

March 1st to the 9th . Monday to Friday 17.00-21.00 & Saturdays 11.00-15.00 & 16.00-20.00

March starts with fun, games and dancing at the RIVER WEST Carnival Saloon. In a set straight out of the wild wild west, the young visitors of RIVER WEST are promised amazing fun moments with the Carnival Sheriff, Can Can girls and of course Cowboys και Cowgirls.

The trials of the Carnival Saloon are made for authentic carnivalists and are sure to put a smile on everyone's face. Who will manage to catch the bull and ride the wild horse? Who has the best aim? The giant cowboy boots may make running difficult, but these carnival kids can do anything!

On Friday and Saturday, the fun skyrockets with impressive parkour on barrels, lassodancers, beat boxing, carnival caricatures, face painting and of course tons of play and dancing. On Saturday March 9 th , the most amazing Saloon Party will conclude the week celebrations in the most amazing way! Dance floor fun, lots of confetti and a carnival poll will set the mood.

March 1st to the 9th , RIVER WEST welcomes the whole family for amazing moments of fun. Can we Carnival? Yes we Can Can Carnival at RIVER WEST!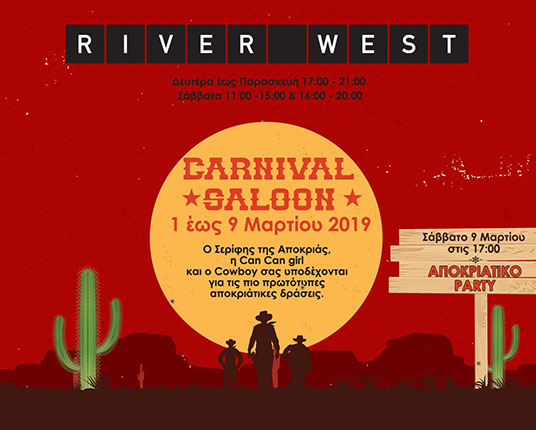 9:00 - 14:00
Level 1
FACEBOOK EVENT